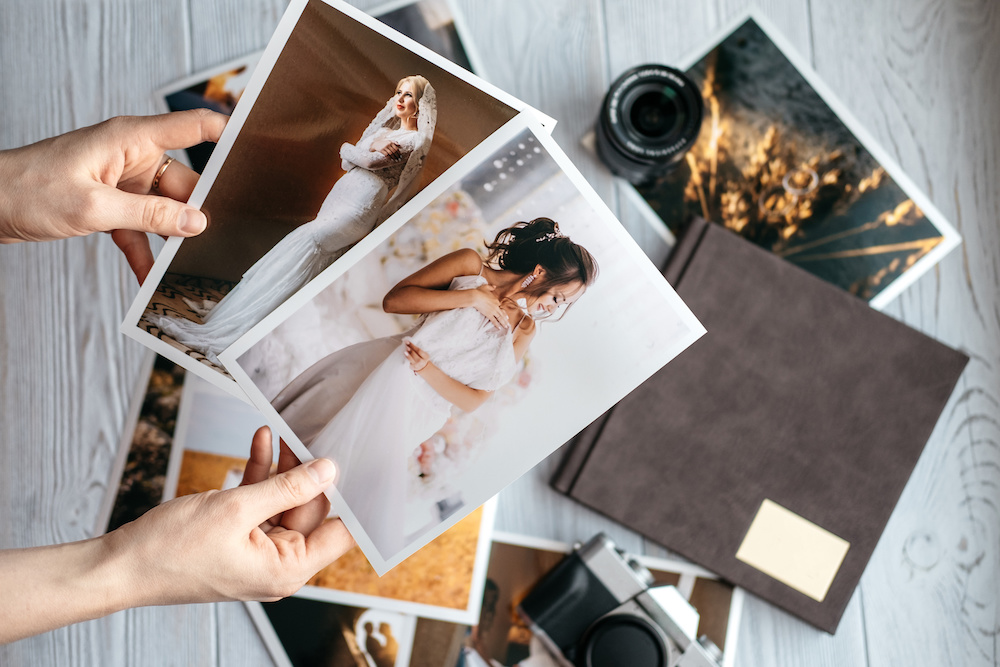 Wedding Photography Like a Pro
Created on: 29/04/2023
Updated on: 22/06/2023
Perhaps after the dress itself, Photography is the next most important thing to sort for your big day. Your memories are, after all, in the hands of one person! And well, you get one shot [cough, cough] at it ... excuse the pun!
Here's our guide to making sure you get the best memories of your special day.  
1. Choosing Mr or Mrs Right!  
Ok, so you've already chosen 'The One' but this 'one' is also pretty important too. So, first things first, check their portfolio. This will give you an idea of their style, creativity, and expertise.  
Next, read reviews. These are a great way to get an idea of how previous clients have felt about working with them. And then, meet in person. This will give you a chance to discuss your vision for the day and to see if you feel comfortable, not just with the photographer, but also that they 'get' what it is your looking for.  
And an important one that many forget is to ask is whether your photographer has the necessary equipment to capture your day, as well as a back-up plan to deal with any technical issues that might happen. Ask about their camera and lighting equipment, as well as their plan for storing your photos. 
And don't forget to get specific when it comes to asking about the packages and pricing. What's included … and perhaps more importantly,  what's not included!  
2. Lights, Camera, Action … 
Well, maybe not quite that dramatic but lighting is everything! When choosing your wedding venue or outdoor location, think about the lighting conditions. Natural light is the best option, but if you're indoors or the lighting is poor, make sure you either hire a professional lighting technician or check that your photographer has the right equipment to create a natural glow.   
And if you're taking outdoor photos, try to schedule your shoot during the golden hour, which is the hour before sunset or after sunrise when the light is soft and golden.  
3. Themes & Styles  
The 'right' style will depend on your personal preferences and the type of wedding you're having. A good photographer will use the setting and wedding theme to make sure your photographs capture not only the day itself, but also the ambiance.  Here's some popular photography styles:  
Traditional: This style often includes formal, posed shots and classic compositions. 
Photojournalistic: A more candid and spontaneous style, capturing the natural moments and emotions of the day as they happen, rather than posed shots. 
Fine Art: Characterized by a more creative and artistic approach to capturing the day. This style often incorporates unique angles, lighting, and composition to create beautiful and dramatic images. 
Documentary: Similar to photojournalistic style but it puts more emphasis on telling a story of the day. The photographer captures the day as it unfolds, but also pays attention to details and moments that help to tell the story of the wedding day. 
4. Get Creative with poses … 
Sure, it can be a little awkward, but try to relax and take in the moment of being together. And don't be afraid to get creative! Walk hand in hand, twirl around, or go in for a kiss. These natural movements will create beautiful and unique photos.  
Other key moments to try and capture are 'The First Look'. A wonderful, often emotional, moment where you see each other for the first time. 'Walking Shots', holding hands and maybe talking about the day so far, create wonderful, romantic and candid shots. 'Group Shots', a must, of course, but ask your photographer for ideas on creative ways to gather people together. And what's a wedding album without 'The Kiss'! Find a beautiful background for this all-important shot.  
And don't forget the 'Details'. These small details can add personal touches to album just as much as those of you and your guests. Think rings, flowers and décor!  
6. And here's the what NOT to do's!  
Don't over-edit. Enhancing shots is important but going too far will take away the essence of the moment being captured. Don't ignore the background. Framing is essential but try to avoid too many distractions or clutter in the background as this can take away from the focus of the shot. Don't forget the candid shots'. These are often the shots that make for the best memories … because they usually have a story to tell.  
And be sure to explain your vision very clearly to your photographer. Don't assume anything. From your overall vision, to the shots you want to get, to the style you're looking for. And make sure your photographer creates a clear schedule and timeline so as you not only know what's happening and when, but to also make sure all your photography boxes get ticked.  
So, there you have it, our tips to make sure that this once in a lifetime day, full of special memories, gets captured in just the way you want it … the magic, the romance, the fun and your unique love story. Happy Snapping!