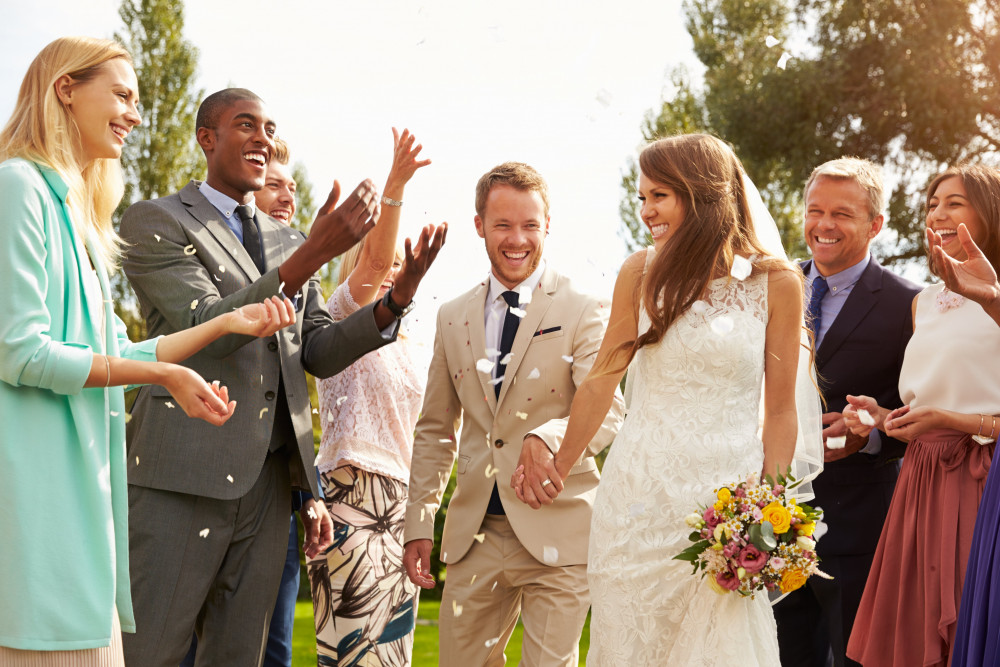 The Ultimate Wedding Survival Guide for Guests.
Created on: 30/09/2023
Updated on: 30/09/2023
Weddings are like a rollercoaster ride of emotion. They're a joyous celebration of love, sprinkled with a pinch of chaos! If you're one of the fortunate guests invited to get aboard this rollercoaster, congratulations! You're in for a wild ride. But don't worry, here's our ultimate wedding survival guide to make sure you have a great time while making sure the bride and groom remember you as the perfect wedding guest.
Choosing the Right Outfit
Ah, the age-old question: "What do I wear?" …
Dress Code Detective: 

First, decipher the dress code. Is it black tie, casual chic, or something unique? Stick to it like glue – you don't want to outshine the bride and groom (or worse, underdress).

Comfort is Key: 

Choose an outfit that allows you to breathe and dance like no one's watching. Remember, you'll be on your feet for hours. High heels might be tempting, but consider comfy dancing shoes for later in the evening.

Weather-Proof: 

Check the weather forecast! You don't want to be caught without an umbrella or a sunhat if Mother Nature decides to throw a curveball.
 Fashionably Early is the New Trend! 
Timing is everything, and at a wedding, it's no different. Arriving on time is a gift to the couple, a sign of respect, and your ticket to catching all the highlights.
Plan for Delays: 

Murphy's Law tends to visit weddings uninvited. Prepare for traffic jams and unexpected twists. Better to be early and sipping a cocktail than late and dashing down the aisle.

Respect the Timeline: 

Couples spend months crafting their perfect day. Show your appreciation by paying attention to the ceremony start time, and be on your best behaviour during key moments.

The Sneaky Side Door: 

If you do arrive fashionably late, slip into the venue discreetly. No grand entrances during vows, please!
Navigating the Seating Arrangements
The moment of truth: the seating chart. Will you be mingling with friends or cosying up to strangers?
Find your Name Tag: 

Locate your assigned seat promptly and avoid wandering aimlessly. 

Stranger Danger: 

If you're seated with strangers, take the opportunity to make new friends. Start with a smile and some small talk. Who knows, you might find your new BFF!

Seat Switching Etiquette: 

Thinking of changing seats during the reception? Keep it discreet. Sneak over during a dance or a lull in conversation to avoid awkward shuffle-dances!
Gift Approach
Gift-giving can be a tricky business. What's the right amount to spend? Is that toaster really their style? 
Budget Wisely: 

Choose a gift that suits your budget, whether it's cash, a thoughtful item from their registry, or a personalized present. It's the thought that counts, not the price tag!

Registry Radar: 

Check if the couple has a gift registry. If so, then this is great way to make sure you're buying them a gift that they really need. 

Cultural Considerations 

If the wedding has cultural elements, research any customs related to gifts. A bit of cultural sensitivity goes a long way.
Wedding Etiquette
Now that you're looking dapper and seated comfortably, let's talk about how to behave like a pro.
Don't Steal the Spotlight: 

It's not your day; it's the couple's. Avoid hijacking the microphone for your impromptu stand-up comedy routine. Save it for open mic night!

Respect Traditions: 

Weddings often involve meaningful rituals. Pay attention, and participate with respect and enthusiasm. 

Toast with Taste: 

When it's time for toasts, raise your glass with genuine warmth. A message from the heart beats a rehearsed speech any day.
Evening Shenanigans
Weddings are all about having fun!
Bust a Move: 

Join in group dances and don't be shy about your killer dance moves. If in doubt, copy someone who looks like they know what they're doing.

Photobooth Frenzy: 

Embrace the photobooth! Grab a prop, strike a pose, and let your inner supermodel shine.

Party Animal Mode: 

Be an active participant in the celebration. Contribute to the laughter, the fun, and the joy of the day. Remember, no one ever regrets having too much fun at a wedding.
Greeting the Newlyweds
You've survived the ceremony, mastered the seating chart, and danced the night away. Now time to end the evening ...
The Perfect Photo:

 When you approach the newlyweds, ask if they'd like a photo together. A candid, post-ceremony shot can be priceless.

Congratulations:

 Offer congratulations. Share your joy and best wishes for their future together.

Goodbye's: 

As the night winds down, take a moment to say goodbye and to thank the newlyweds for sharing their special day with you. 
And there you have it, the ultimate wedding survival guide! Grab your dancing shoes and let's make some wedding memories. After all, weddings are all about love, laughter, and unforgettable moments. Enjoy the ride!