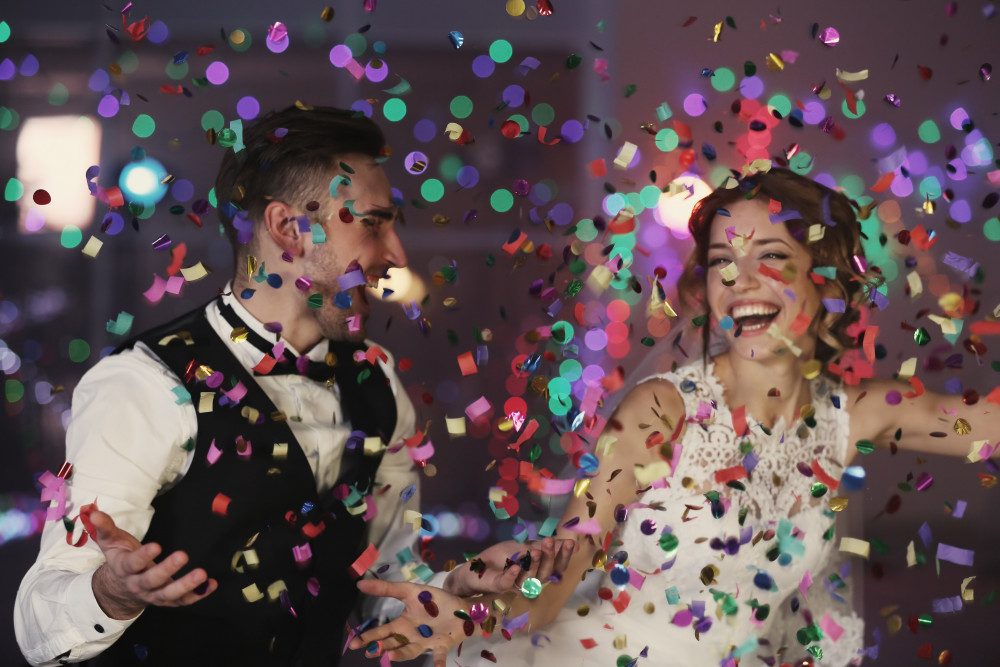 The Perfect Wedding Reception.
Created on: 29/10/2023
Updated on: 29/10/2023
When it comes to weddings, the reception is, of course, the crown jewel of the celebration! And who doesn't love a good party! But creating such an important part of your special day doesn't come without a lot of thought, careful planning … and a dash of gin, sorry, creativity! 
Here's our step-by-step guide to throwing the reception of all receptions! 
Setting the Stage for Success:
The first step is choosing the right venue. The venue sets the stage for the entire event, so it's key to pick one that aligns with your vision. Some things to consider:
Theme: Are you going for a rustic theme? … Think barns. An elegant ballroom type affair? … Think stately homes. Or are you thinking of natural? ... Think Parks or Gardens.
Size: Determine the size of your guest list and find a venue that can comfortably accommodate everyone. You don't want guests feeling cramped or, maybe worse, lost in an over-sized space.
Location: Consider the location of the venue in relation to the ceremony site and guest accommodations. Convenience is key.
Once you've found the perfect venue, then the real fun begins.
Crafting a Personalised Experience
Personalisation is the key to making your wedding reception stand out. Your reception should reflect your unique personalities and your love story. Here are some ideas for adding personal touches:
Custom Decor: Incorporate personalised decor elements such as monogrammed signs, family photos, or items that have stories to tell amongst your friends and family. 
Favours: Originality is key here! Choose something sentimental, useful or fun! Custom-made candles, mini photo albums, shot glasses, or a jar of 'perfect matches'. Who doesn't love a 'match' pun!
Details: It's the small details that make a big difference. Think about customized table settings, unique centrepieces, and creative place cards - the more personalised, the more memorable.
The Guest List Dilemma
Ok, so probably one of the hardest things to crack! To kick-off, start by determining your priorities. Who are the must-invite guests, and who falls into the "nice to have" category?
Balancing Act: Balance the guest count with your budget. Easier said than done … we know! 
Priority Lists: Create priority lists to categorize guests. Start with immediate family and close friends, then move on to extended family and 'acquaintances'.
Check Restrictions: Your venue may have limits on numbers. So check beforehand and build this into your planning.
The Seating Plan Masterpiece
The seating plan is where you can get creative and ensure your guests have a fantastic time … but it takes a bit of careful thought:
VIP Seating: Consider a "VIP" table for immediate family and the bridal party. They should have the best seats in the house.
Matchmaker: Think about matchmaking! Put guests together that have shared interests or who might hit it off, at the same table.
Themed Tables: From movies, to your favourite holiday adventures, to things like international words for love, colours, designers and even your favourite tipples! Get creative, it adds a great, playful touch.
Culinary Delights: The Food and Drinks
Ahhhh, the food and drinks! Another make or break part of your special day! No pressure! 
Menu Selection: Choose a menu that reflects your tastes and the overall theme of your wedding. And make sure to include options that cater to dietary restrictions and allergies.
Signature Drinks: A lovely touch is to create a signature cocktail-s! that represent you as a couple or your personalities, served as either a welcome drink or at the evening bar.
Choose your wedding breakfast style … 
Interactive Food Stations where guests can customize their dishes. For example, a build-your-own taco bar, a pasta station with various sauces and toppings, or a gourmet burger bar.
Local Cuisine Showcase: If you're having a destination wedding or if there's a specific cuisine associated with your location, consider showcasing local dishes or flavours.
Late-Night Snacks: Keep energy levels up for guests who plan to dance the night away. Mini sliders, pizza slices, or a gourmet popcorn bar can be just the ticket!
Dessert Buffet: Besides the wedding cake, set up a dessert buffet with a variety of sweet treats like cupcakes, macarons, donuts, and a chocolate fountain.
Entertainment That Wows
Another 'no pressure' part of the day!
Live Entertainment: In addition to music, consider live entertainment acts. A jazz trio, a magician, a caricature artist, or a salsa dance performance can entertain guests between courses.
Photo Booth: Set up a photo booth with props that match your wedding theme. Guests can take fun and memorable pictures to keep as mementos.
Wedding Mad Libs: Provide guests with Mad Libs-style cards related to your wedding. They can fill in the blanks with funny or heartfelt messages, creating a unique keepsake.
Outdoor Games: If your reception has an outdoor component, consider games like giant Jenga, or ring toss. Always crowd pleasers! 
Fireworks or Sparklers: End the evening with a bang by arranging for a fireworks display or a sparkler exit. 
Capturing Moments: Photography and Videography
Your wedding day will pass in the blink of an eye, but the memories captured in photographs and videos will last a lifetime:
Hire Professionals: Try to avoid scrimping on this one. Invest in professional photographers and videographers who specialize in weddings. They know how to capture the best and most candid moments.
Managing the Timeline
An important one not to overlook is making sure everything runs to plan:
Plan the order of events, including the grand entrance, toasts, speeches, and dancing. Make sure everyone knows their roles. 
Assign a point person or coordinator to manage the timeline and ensure everything stays on track.
The Grand Farewell
As the night comes to a close, make sure your exit is as grand as the entrance! Whether it's a sparkler exit, firework display, a balloon release, or a classic rice toss, make it special. And a sincere thank you speech can be the perfect ending.

Your wedding reception is not just a party; it's a celebration of love and your special day. The devil really is in the detail … so make sure you plan one to remember!