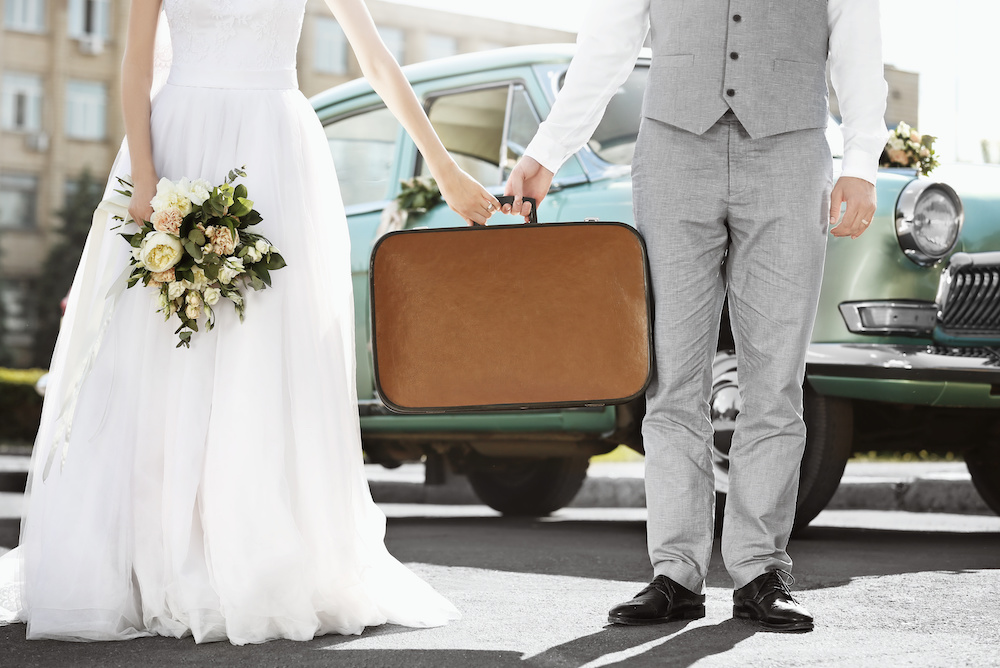 Destination Wedding Planning
Created on: 02/06/2023
Updated on: 02/06/2023
Beaches, castles, or simply a change of scenery and your favourite getaway destination; the vineyards of France, the coastlines of Italy or the spectacular cities of Spain. Wherever you're thinking of tying the knot, a destination wedding takes a little more planning than staying 'local'.
But don't fret, we've got you covered. Here's a short guide on planning the perfect destination wedding.
1. Destination Wedding Locations.
The first step is, of course, the location. And unless you have a specific place in mind, the options are pretty much endless. So, make use of social media for inspiration on locations – and venues – that other couples have used.
And check things like the weather and seasons. Also that the location is easily accessible for your guests, and that they won't have any issues with visas or other travel requirements. And don't forget to take into account the local customs and traditions, such as dress codes or language.
2. Legal Requirements.
Each country has its own set of rules and requirements when it comes to getting married, so make sure you research the legal requirements for getting married there. You'll need to prepare things such as passports, visas, and birth certificates, as well as a marriage license.
It's also important to check [and double check!] the timeline for getting these documents in order, as they can take some time to process and obtain!
3. Wedding Planning Timeline.
A destination wedding requires more planning than a local wedding, so it's important to start early. Here's a rough timeline:
12-18 months before: Choose your location, book your venue, and send out save-the-dates.
6-12 months before: Book your vendors send out invitations.
3-6 months before: Finalize details with your vendors and the venue.
1-3 months before: Confirm travel arrangements for you and your guests.
4. Accommodation.
A destination wedding usually requires that the bride and groom arrange some accommodation options for their guests to stay. Choose options that are not only close to the venue but also close to other attractions so that guests can fully enjoy their stay. [More on this later!]
And negotiate room blocks and group rates with the accommodations you choose. Guests will appreciate the discounted rates and also being amongst the wider wedding party.
5. Vendors.
Make sure to choose vendors who are experienced and happy to work remotely and handle the logistics that come with this; photographers, florists, caterers, transport. And a local wedding planner can be a godsend for destination weddings as they will have all the necessary local knowledge of vendors – as well as customs and traditions.
6. Local Customs & Traditions.
And on that … one of the great things about a destination wedding is the opportunity to experience and incorporate local customs and traditions into your wedding. This makes for a truly unique and memorable experience for both you and your guests.
Things to explore are perhaps wearing a traditional wedding dress or outfit. Music, and hiring a local band or incorporating some local music or dance into the ceremony. And of course, food! Serving some traditional or local speciality dishes is arguably a must … oh and let's not forget any local or regional drinking options!
7. Travel Logistics.
Providing travel logistics for your wedding party and guests is as important for a successful destination wedding as perhaps the wedding itself. You want to make sure everyone gets to the destination safely and with as little stress as possible.
Airport Transfers: Arrange transportation from the airport to the hotel or venue for your guests. Consider hiring a shuttle service or arranging for private cars.
Local Transportation: Provide transportation to and from the wedding venue – very important! And also source either local drivers to be on hand for guests, or local taxi companies that guests can contact, to get around.
Pre-Wedding Activities: Organise some pre-wedding activities and excursions, like city tours, beach parties, group dinners, hiking excursions, or wine tastings. A great way for guests to get to know each other before the big day.
Local Attractions: And also provide some information about local attractions, activities, and restaurants to help your guests make the most of their trip.
A destination wedding definitely requires a little more planning than choosing to carry out your nuptials at home. However, good preparation, lots of research and perhaps a helping hand from a local wedding planner, can make a destination wedding simply magical and totally worth the extra effort.